Graduate Profile: Tansy Mak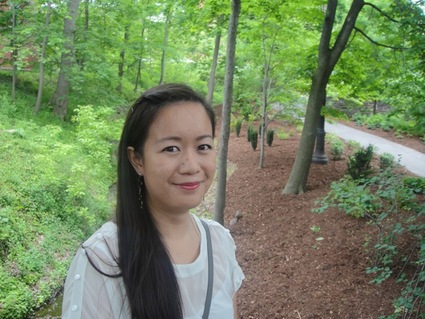 Our featured profile this week is an Aim High graduate who has truly moved onward to reach for her dreams.  Tansy Mak is an alumnus of Aim High at Lick-Wilmerding ('03) and recently graduated from Cornell University with a degree in Architecture.  She attributes her awareness of resources and opportunities for high school and college to her experience at Aim High. After graduating from Aim High, Tansy was accepted at Lick-Wilmerding HIgh School and immediately took an interest in the Drafting and Design class. This class was the first to inspire her to pursue architecture as a career. Tansy is now working in Boston at Choi & Shine, a small architecture firm, and hopes to return to San Francisco and open up her own practice. She wants to continue her involvement with Aim High, and hopes to become a mentor for new Aim High students.
How were you first introduced to Aim High?
Aim High did a presentation at my middle school, AP Giannini. I remember going home and telling my mom, there is really cool, free program and I want to be a part of it! I told her, it is not exactly summer school, but it's not exactly summer camp either. I was drawn in by the presentation and knew I wanted to apply.
What was your favorite experience at Aim High?
During the normal school year, I didn't get to take many classes outside of typical English, Math, and Science courses. One favorite memory at Aim High is my Journalism class. I remember having the freedom to choose what type of article I wanted to write. For one of my articles, I interviewed Alec Lee, the Executive Director of Aim High, for the newsletter. It was great to hear more about him and what he does for the program. In general, it was really empowering to have the freedom to explore different subjects beyond Math, Science and English at Aim High.
Was there one staff member or teacher from Aim High who has had a lasting influence on you?
My site director at Lick, James Harris, had a lasting impression and effect on me. He was so warm and welcoming.  My mom was really impressed with him. She still talks about him to this day. He treated everyone as an individual, and even though there were a hundred or more kids, he knew everyone's name. He created community for me at Aim High. He was enthusiastic, authentic and sincere. He made the Aim High experience about community-building and not just summer school classes.  I truly give Aim High credit for introducing me to Lick. I had never considered going to a private high school before Aim High. It wasn't a part of my plan. Many students think they can't afford private schools, so they end up attending public school.  By participating in the Aim High program, I was able to learn more about other options available to me. Through Aim High, my family and I learned about financial aid opportunities for high school and because of this, I was able to attend Lick.
What tools have you used from your Aim High experience to get to where you are now?
Aim High opens you up to exploration and allows students to follow a non-linear path to success. The program shows you that you're not limited.  You are free to explore and you don't have to be afraid of being successful. I remember being very encouraged by all my teachers to challenge myself. If I didn't feel challenged, I could let them know; if I needed harder worksheets, I could receive them. It was an extremely customized experience because the classrooms were so small and the teachers gave you individual attention, so no matter what level you were, you were challenged.
What are your hopes for the future?
I hope to move back to San Francisco and work there. I am working towards my architecture license and hope to move back as soon as possible, and to eventually open my own practice. I definitely want to move back to San Francisco and stay involved with Lick and Aim High.
What word, in your opinion, represents the Aim High program and mission? Encouragement. There was so much encouragement and support at Aim High.